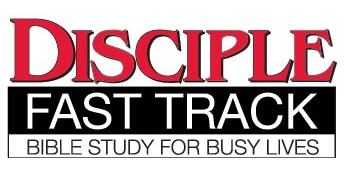 Bible Study
Wednesdays
6:30pm, Library
The Disciple Fast Track introduceS the grand sweep of of Old and New Testament Scripture in a 24-week format.
How does it work?

The course uses the Disciple Study Manuals, but the class time and course length have all been adjusted for busy lifestyles. Additional print and video materials, which are extremely easy to use, give participants the tools to absorb and retain what they learn in this shortened format.
Main features of Disciple Fast Track:
Classes meet for a total of 24 weeks

– There are 12 sessions in the Old Testament and 12 in the New Testament. Groups typically start the Old Testament in early fall and finish before Thanksgiving; they then start the New Testament in January and finish around Easter.

Each group session lasts 75 minutes

Students will follow step-by-step instructions provided in the

Old Testament and New Testament study guides.

A brief, illustrated review video enables participants to recall important facts and ideas; lively and engaging video presenters then offer insights into the current week's session. Participants have the opportunity to take a spiritual gifts assessment and determine meaningful ways they can serve and live out their discipleship commitment. They also have opportunities for celebrations marking their completion of the Old and New Testament components of Disciple Fast Track.
We are now studying the New Testament, and we will be following until we take a break with our Lenten Bible Study.



JOIN OUR GROWING AND FRIENDLY GROUP EVERY WEDNESDAY AT 6PM IN OUR CHURCH LIBRARY!